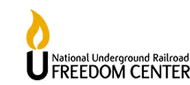 The NationalUndergroundRailroadFreedomCenter website features detailed information about Underground Railroad history, as well as descriptions and images of its inspiring, educational exhibits. From education initiatives, to community enhancement programs, to blogs, you will find relevant discussion about subjects that really are important today, such as human trafficking. This information is provided to inspire you to action, in the spirit of the 19th Century Abolitionists, to pursue justice and freedom for all people.
A special website section features school tour and lesson plan ideas.
The museum reveals stories about freedom's heroes, from the era of the Underground Railroad to contemporary times, challenging and inspiring everyone to take courageous steps for freedom today. The FreedomCenter prides itself on being a rich resource for educating school children, and the public at large, about the issues of slavery, freedom, and the world-wide struggle for equality, both past and present.