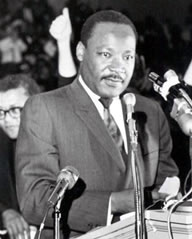 On the third Monday of January, Americans celebrate the life and achievement of one of our most respected citizens -- Martin Luther King, Jr. While many Americans know that the 20th century's most famous civil rights leader was assassinated in Memphis, Tenn., on April 4, 1968, fewer may remember that he was in Memphis to support 1,300 sanitation workers who were in the throes of a bitter, difficult strike. As we honor his legacy with the observance of a national holiday Monday, remember his commitment to the labor movement as a civil rights issue. AFT and other sources offer an array of quality educational resources for teachers and students that are not only important this weekend, but throughout the year.
"I feel that I'm an honorary member of many labor unions all across the country," King said at the National Labor Leadership Assembly for Peace in Chicago Nov. 11, 1967.  "This conference, a united expression of varied branches of labor, reaffirms that the trade union movement is part of forward-looking America."
The night before he was murdered, King delivered his eloquent "I've Been to the Mountaintop" speech to strikers, their family members and supporters who had crammed into Mason Temple in the city.
History points to King's poignant, powerful words as an eerie foreshadowing of the fate that was to befall him the next day. But it should be noted that King's last speech was also a testament to his commitment to the labor movement. His numerous historical references and Biblical stories firmly established the link between the union members' battle for fair treatment and equality on the job with the broader, fundamental battle for basic human rights. Martin Luther King Jr. recognized that labor's fight for economic justice and dignity were intertwined with the civil rights movement.
EDSITEment has a number of resources, activities, and lesson plans to help teachers, students, parents, and caregivers understand the impact Dr. King had -- and continues to have -- upon our country and the global efforts towards peace and civil rights. To learn about Dr. King's career, visit the extensive biography, timelines, chronologies, and journals available at http://edsitement.neh.gov/i-have-dream-celebrating-vision-martin-luther-king-jr#node-19463.
Check out these sites and remember his words:
"Let freedom ring from every hill and mole hill of Mississippi. From every mountainside, let freedom ring, and when this happens...when we allow freedom to ring, when we let it ring from every village and every hamlet, from every state and every city, we will be able to speed up that day when all of God's children, black men and white men, Jews and Gentiles, Protestants and Catholics, will be able to join hands and sing in the words of the old Negro spiritual, "Free at last! Free at last! Thank God Almighty, we are free at last!"