Parents, students, teachers and community members Dec. 9 staged actions in more than 80 cities across the country to reclaim the promise of public education. Read "The Principles that Unite Us." Here are some examples of the Day of Action activities hosted by OFT members.
Cincinnati
The Cincinnati Board of Education Dec. 9 became one of two boards nationwide to embrace the Principles that Unite Us as a guiding document for collaboration under Reclaiming the Promise of Public Education.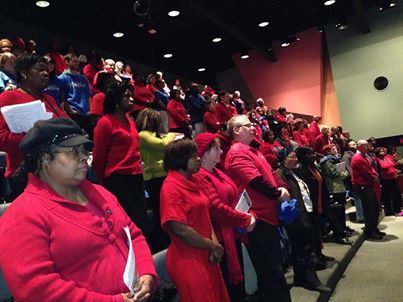 More than 250 parents, teachers and other community members filled the auditorium for the board meeting. OFT President Melissa Cropper explained our commitment to Reclaiming the Promise by providing engaging curriculum, creating safe schools, ensuring that teachers and school staff are well-prepared and supported with planning time, and making sure that children have access to wraparound services. Cincinnati Federation of Teachers, Local 1520, President Julie Sellers shared the history of Reclaiming the Promise that led to the Day of Action. CFT hosted town hall meetings and pursued community engagement around Reclaiming the Promise and how such collaboration would benefit our schools, our children and our neighborhoods. As a result of CFT's work, the board also voted that night to change their evaluation policy to delay high stakes decisions until the process is made more reliable and accurate.
Cleveland Heights
Members of the Cleveland Heights Teachers Union, Local 795, took the first step toward a longer term community discussion about the forces that influence public education as part of the Day of Action to Reclaim the Promise of Public Education. A group of educators, parents, business representatives, and other interested community activists met Dec. 9 to establish a community book discussion group around Diane Ravitch's "Reign of Error." The group plans a four-session program to bring together members of the community to discuss the influence and impact of privatization and the corporate reform agenda on our neighborhood public schools. The sessions will be mostly facilitated small group discussions. "My hope is that talking about these things will help community members make informed decisions," said President Ari Klein. He hopes the group will be interested in continuing in some way after this book discussion is finished.
Toledo
The Day of Action took a national view for the Toledo community. The Toledo Federation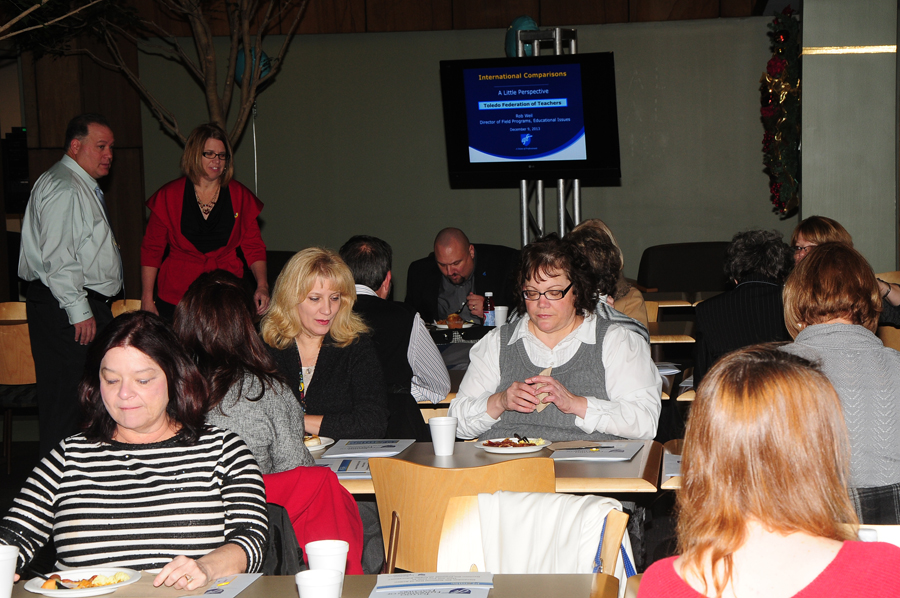 of Teachers, Local 250, hosted a community breakfast and presentation of the national PISA results that compare countries worldwide on education. Business leaders, parents, district leaders and educators learned about the PISA report and its suggestions for improving education in America during a presentation by AFT's Rob Weil. Information shared during the event also highlighted how TFT works with the district on successful programs in Toledo schools and included a card for community members to fill out as a pledge for how they will engage in Reclaiming the Promise. The event strengthened the Toledo community around education by connecting educators with some new community allies and reinforcing existing relationships. TFT plans to continue such activities and collaboration throughout the year.
Cleveland
In Cleveland, more than 180 community members, teachers, parents, students and faith leaders stood together to call for a PILOT (Payments in Lieu of Taxes) program to press Cleveland's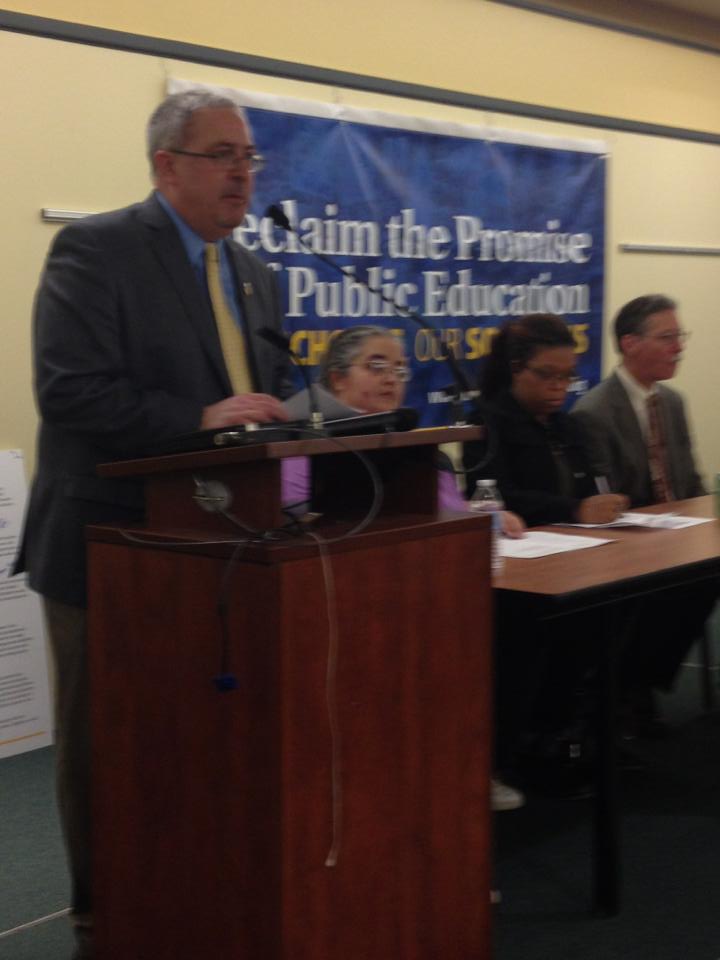 largest nonprofits to pay their fair share to help fund our schools and for the state of Ohio to restore cuts made to our public schools since 2010. The Cleveland Teachers Union, Local 279, joined with Common Good Ohio and Policy Matters Ohio to call on the city's two big hospitals to pay more than $20 million in taxes they don't pay because their properties are exempt. Cleveland's event was an example of a growing movement of parents, teachers, students and community members standing together to reclaim the promise of public education. "Moving forward, we call on the Cleveland Clinic and University Hospitals and the State of Ohio to provide our schools and students the funding they need to thrive," said Cleveland Teachers Union President David Quolke.