Mooney Scholars
2017 (photo at right)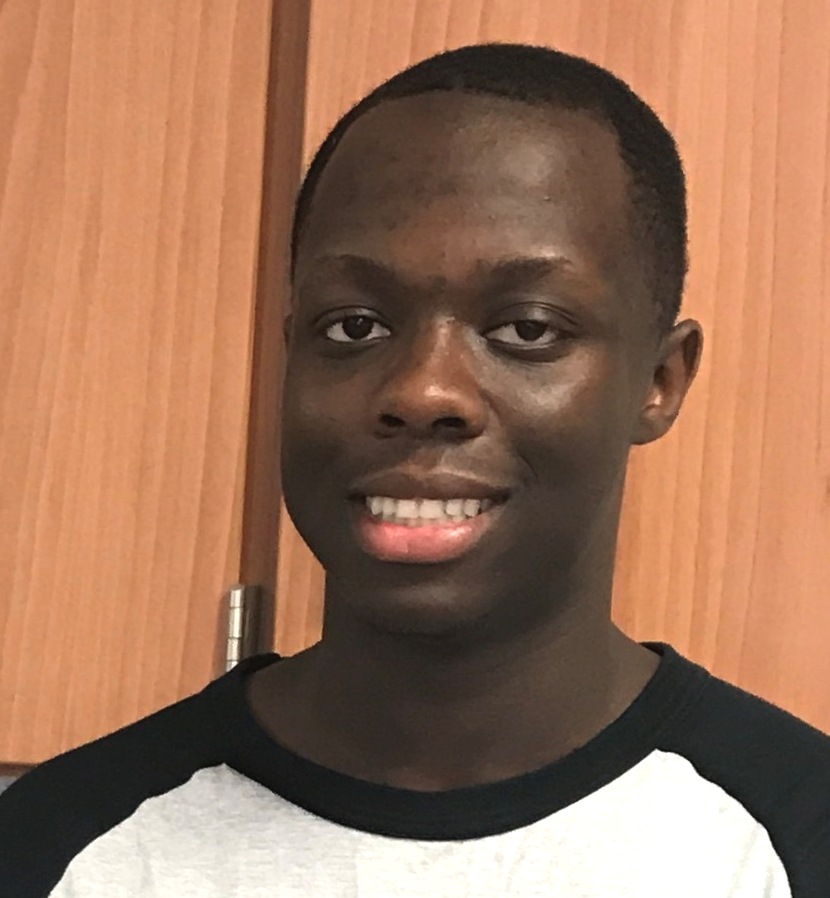 Eric Adeyemon, of Cleveland Heights, Ohio
Howard University - political science
His mom is Abiola Adeyemon, a member of the Cleveland Heights Teachers Union, Local 795
2016
Thomas Pedrotti, of New Lebanon, Ohio
University of Dayton - History and political science
His mom is Marjorie Loyacano, a member of the New Lebanon Federation of Teachers, Local 4468
Brian Hribar, of Brunswick, Ohio
Bowling Green or Ohio State - Middle school education, English as a second language (ESL)
His mom is Jean Hribar, a member of the Berea Federation of Teachers, Local 1699
2015
Cherie Lo, of Shaker Heights, Ohio
Harvard College - Early childhood education
Her mom is Shuling Tai, a member of the Beachwood Federation of Teachers, Local 1468
Allan Bobincheck, president of Beachwood Union of Support Staff (BUSS), Local 6840, to attend the AFT PSRP Conference leadership development
Mike Schmitz, president of Owens Support Personnel, Local 6325, the AFT PSRP Conference for leadership development
Darrell Lausche, member of the Cleveland Heights Teachers Union, Local 795 and OFT Civil Rights Committee Chairman, to attend the AFT Civil, Human and Women's Rights Conference  for leadership development
Chandra Gardner, member of the Cincinnati Federation of Teachers/ACPSOP, Local 1520 and member of the OFT Civil Rights Committee, to attend the AFT Civil, Human and Women's Rights Conference for leadership development
2014
Ian Meister, of Fairlawn, Ohio  
University of Akron - Education in science
His dad is Matt Meister, a member of the Cleveland Heights Teachers Union, Local 795  
Hope Johnston-Holm, of Cincinnati, Ohio  
American University, College of Wooster or Ohio State - Political Science
Her dad is Frederick Johnston, a member of the Cincinnati Federation of Teachers, Local 1520  
Mooney Leadership OFT (Mooney LOFT) - The Mooney LOFT program provides leadership development for current and upcoming leaders of OFT locals across Ohio. Launched in 2014 with support from the Tom Mooney Memorial Scholarship Fund, the program strengthens locals by helping leaders build local capacity, creates a platform for leaders to network and grow, and aligns work across the state from a local level through the state level.
2013
John Michael McCann, of Cincinnati, Ohio 
Ohio University - History or Political Science
His mom is Margaret Groeber, a member of the Cincinnati Federation of Teachers, Local 1520
Melissa Cropper, OFT President
To enroll in the Education Policy Fellowship Program, a program of the Institute for Educational Leadership. The Education Policy Fellowship Program works in partnership with state-based partners to prepare such leaders – individuals who can work effectively across boundaries to improve student outcomes.
2012
Angela Rose Holecko, of Berea, Ohio 
American University - Political Science and International Affairs
Her dad is Steve Holecko, vice president of the Berea Federation of Teachers, Local 1699
2011
Kathryn Victoria Day, of Georgetown, Ohio 
Northern Kentucky University and Xavier University - music education
Her mom is Donna Day, a 6th grade math teacher and member of the Georgetown Federation of Teachers, Local 4903
2010
Katey Anderson, of Woodville, Ohio 
Ohio State University - speech and hearing sciences, and education.
Her mom Kelly Anderson is a fourth grade teacher, instructor for the union's professional development program Educational Research and Dissemination (ER&D), and a union building representative for the Oregon City Federation of Teachers, Local 1080. Her father Kip Anderson is a high school math teacher and treasurer for the local union.
2009
Joseph Giuliano, of Newton Falls, Ohio 
Mount Union College - political science and international affairs 
His mom is Peggy Giuliano, president of the Newton Falls Classroom Teachers Association, Local 4864
2008
Allison Marquette, of Rossford, Ohio 
Bowling Green State University - education
Her mother is a member of the Oregon City Federation of Teachers, Local 1080
2007
Kelsey Stefanik-Sidener, of Columbia Station, Ohio 
American University in Washington, D.C. - political science and international affairs
Her mom is Cheryl Stefanik, OFT executive secretary